About Dover Veterinary Hospital & Our Dover, NH Veterinarians
Dover, NH Veterinarians Provide Premier Care in an Advanced Facility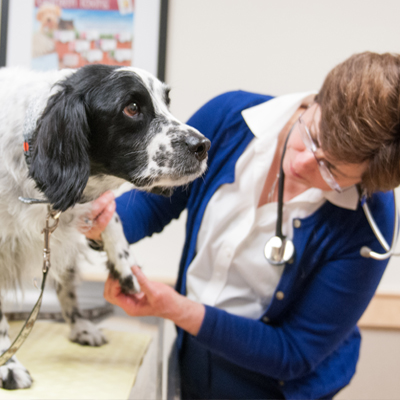 Dover Veterinary Hospital is a full-service animal medical facility, serving pets and their owners throughout the Seacoast region of New Hampshire and towns in Southern Maine, including Berwick, Eliot, Kittery and York.
The veterinary hospital in Dover, NH wants to provide the best care that modern veterinary medicine has to offer. We take preventive care seriously, and combined with our compassion for all animals, we work to establish a deep respect for the bond you have with your pet. We have state-of-the-art medical services and a range of complementary holistic approaches. At Dover Veterinary Hospital, we know that you seek and expect the same level of medical expertise and compassion for your pets as you do for yourself. Our entire team of dedicated animal-care professionals strives to meet that expectation each and every day.
As pet owners ourselves, we also know that you want to be treated with warmth and understanding by a staff that is courteous and professional. We believe that the care of your pet is a constant conversation between you and us, so that concerns are shared, new information is provided, and health goals are met.
At Dover Veterinary Hospital, your pet will receive thorough wellness exams, appropriate vaccines, and have access to herbal remedies, acupuncture, vaccine titers and more. Your veterinarian will discuss the effects of nutrition and environment on your pet's health and we can offer behavior counseling if needed.
Should your pet become ill or injured, we are equipped with a range of advanced diagnostic tools, a modern surgical suite and exceptional internal medicine abilities. Our holistic techniques also work toward a more rapid recovery, complementing our conventional methods of treatment.
Give us a call at (603) 742-6438 to learn more about our veterinary services or to schedule an appointment today!