Veterinary Staff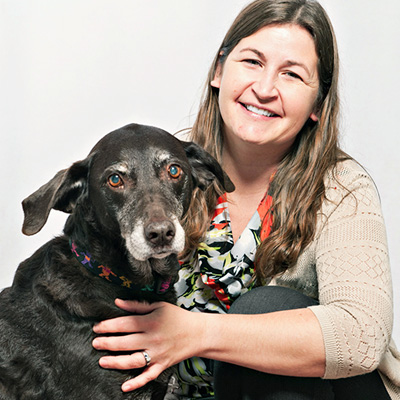 Stephanie Houle, Practice Manager
Practice Manager Stephanie Houle has been at Dover Veterinary Hospital since November 2004. "I love working at Dover Veterinary Hospital because it gives me the opportunity to work with a great group of people," she says. "Our staff and veterinarians are the best at what they do. I also love to work with our clients and interact with them daily. They feel like friends rather than just clients, which adds to the warm and friendly environment here."
Stephanie has a Bachelor of Arts degree in English from Keene State College. As an undergraduate student, she spent a semester abroad at the University of Wolverharpton in England. After earning her bachelor's degree, she moved to New Zealand where she worked and travelled extensively for a year before returning to New Hampshire.
At home, Stephanie has a lab/hound mix named Layla and two guinea pigs named Coco and Sugar. Her interests include spending time with her husband and two daughters, hiking, snowshoeing, crafting, gardening, traveling and camping. She also enjoys community involvement, such as being the team captain for her local Relay for Life team (an American Cancer Society event).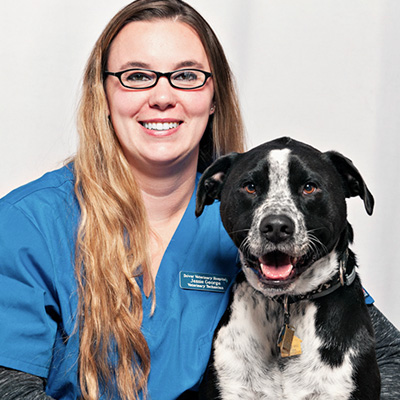 Jessie George, Lead Veterinary Technician
Lead Veterinary Technician Jessie George has been with the Dover Veterinary Hospital since March 2011. She began her career in companion-animal care in 2004. Jessie has a positive attitude and brings her sense of humor into the office every day.
"I like being part of this team. The staff here all work well together and are here to support one another, which allows us to provide the best patient care for our clients," Jessie says.
At home, Jessie has a Jack Russell terrier named Angel, an American bulldog mix named Rudy, and two ferrets named Primer and Powder. While Jessie says she is an "avid tennis ball thrower" for Angel, she also enjoys spending quality time with her family, hunting, fishing and gardening.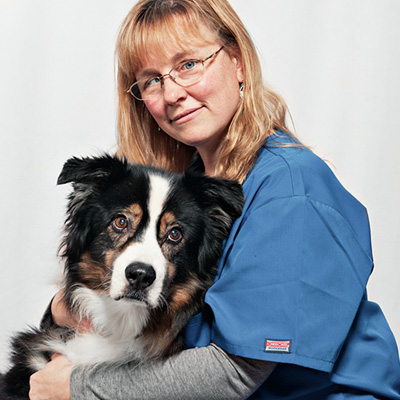 Linda Moore, Licensed Veterinary Technician
Linda Moore is a Licensed Veterinary Technician and has been with Dover Veterinary Hospital since 2012, but began her career in the animal care field in 1992.
Linda says, "I am a 'Lab Nerd'- I love analyzing anything under the microscope" and shares her passion for education with our staff.
Linda has an Associates Degree in Animal Medical Technology from the University of Maine and is a member of the New Hampshire Veterinary Technicians Association.
"At Dover Veterinary Hospital, every staff member puts your companion's care first," she says. "We focus on preventative medicine and education to prevent unneccesary diseases, we keep current in gold standard care and will offer only the best to your furry friends. I love getting to work with such a caring group of professionals."
At home, Linda and her family enjoy participating in Scouts, lacrosse, softball, camping, hiking, and having fun together. She shares her home with Jaker (an Australian Shepherd), Holy (a Golden Retriever mix), two cats (Munchie and Georgie), as well as a variety of chickens.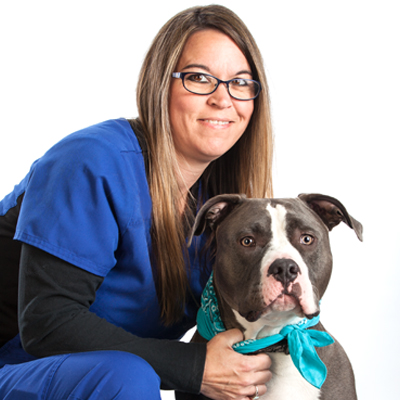 Misty Roberts, Veterinary Technician
Misty joined the Dover Veterinary Hospital team in May of 2017, but has over eleven years of experience in the animal field. Her positive attitude, sense of humor, and knowledge of animals make her a great asset to our team. She loves that each day in the office differs from the last with her wide range of responsibilities. Misty is a nurse, receptionist, educator, companion, and more on any given day.
Misty loves building relationships with clients and their pets. She has five pets of her own, a Pitbull named Diesel, and four cats named Vinney, Skippy, Sadie, and Jasper. When she is not at work, Misty enjoys hiking, camping, and spending time with her family and animals.
Misty is happy to be a part of the DVH team where excellent care is a must and everyone goes above and beyond to help patients.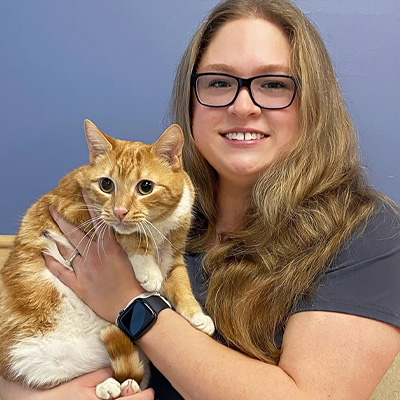 Rebekah Goodrich, Licensed Veterinary Technician
Full-time Licensed Veterinary Technician Rebekah Goodrich is responsible for assisting vets with exams, nursing care, vaccines, bloodwork, appointments, laboratory work, and taking care of patients (and giving them lots of extra love!) Rebekah loves providing exceptional care to all patients and she is passionate about learning new things every day. She is motivated to help and learn, and she is a total team player. Rebekah is compassionate with a big heart for animals and people.
"I love working at Dover Veterinary Hospital because everyone is a team player and they don't hesitate to help if you need it, everyone here wants you to learn and grow in the best environment."
Rebekah has an associate degree in Veterinary Technology and is planning on taking the exam to be licensed in NH and ME. Before joining our team, Rebekah also worked as a Veterinary Assistant since 2018. At home, Rebekah has a 5-year-old Alaskan Klee Kai named Niko and a 2-year-old black DSH feline named Lilith. In her free time, Rebekah enjoys crafting, reading, fishing, swimming, and skiing.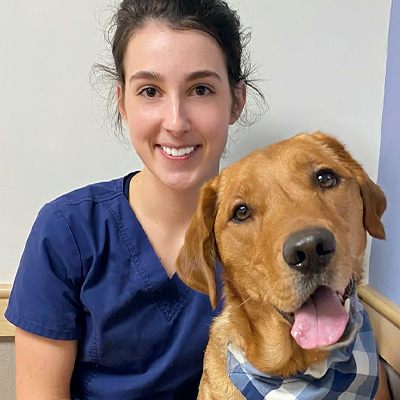 Sydney Pechstein, Certified Veterinary Technician
Certified Veterinary Technician Sydney Pechstein joined the Dover Veterinary Hospital part-time in the summer of 2020. She has previously worked as a Kennel Assistant and has three years of experience in the veterinary care field. As a Certified Veterinary Technician, Sydney is responsible for assisting the technicians and veterinarians with patients and clients. She loves cuddling all the puppies and learning new things!
Sydney is incredibly hard working and is always willing to help others. Currently, Sydney is pursuing a degree in Veterinary Technology at Great Bay Community College. At home, Sydney has a 4-year-old lab named Ellie and a 2-year-old lab named Daisy! She likes to spend her free time hanging out with her dogs, as well as hunting and fishing.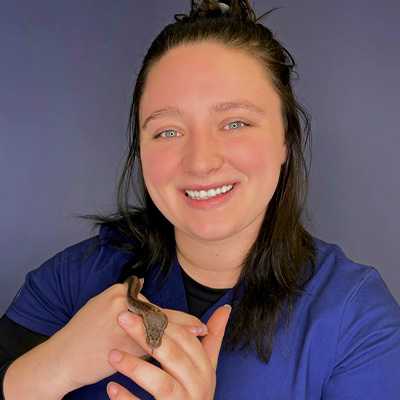 Brittany Moffatt, Technician Assistant/Office Assistant
Brittany Moffatt joined the Dover Veterinary Hospital team full-time in June 2020. She is responsible for helping on the floor with patients and clients and assisting with office work. Brittany has such an energetic attitude and loves giving all of our patients yummy treats! Brittany has a degree in Biomedical Sciences, and she is currently working towards going to Veterinary Medicine school. Before joining our team, Brittany worked at Kennel Kid at Cedar Valley Vet Clinic during her summer breaks from college.
When asked why she loves working at Dover Veterinary Hospital, Brittany says "All of the technicians and veterinarians use any and all opportunities to teach me new things! Everyone strives to make sure every patient enjoys their visit!"
At home, Brittany has several pets of her very own! Pete is a 10-year-old black tuxedo DSH, Luke is a 10-year-old gray DSH, and Louis is a 2-year-old ball python. In her free time, Brittany enjoys cooking, swimming, and playing video games.