Holistic Therapies
As part of our commitment to meet the complete needs of our clients' pets, Dover Veterinary Hospital offers holistic veterinary medical services including acupuncture, herbal therapy and nutritional therapy. These services are provided by Dr. Kristin Rennie, who is certified in acupuncture by the International Veterinary Acupuncture Society and is a member of the American Holistic Veterinary Medical Association.
These services are designed to be complementary to our traditional services. Our goal is to minimize the use of medications and more invasive therapies and treatments. Acupuncture and holistic medicine are also excellent preventive measures that promote the overall wellbeing of your pet.
What Is Holistic Veterinary Medicine?
Holistic (or Integrative or Complementary) Veterinary Medicine is the examination and diagnosis of an animal that considers all aspects of the animal's life and employs all of the practitioner's senses. Treatment is generally a combination of conventional, alternative and complementary modalities.
Your holistic veterinarian wants to learn about your pet's behaviors, distant medical and dietary history and their environment; including current diet, emotional stresses and other factors. A thorough understanding of your pet's health will help Dr. Rennie make recommendations and provide you with the appropriate treatment options for bettering your pet's condition. The techniques used in holistic medicine are gentle, minimally-invasive and incorporate patient wellbeing and stress reduction.
Veterinary Acupuncture
Acupuncture is the stimulation of specific points on the body that have the ability to alter various biochemical and physiologic conditions to achieve the desired effect; it is a means of helping the body heal itself. Acupuncture has been used successfully for nearly 4,000 years on animals and human beings. It is the treatment of choice for one quarter of the world's population, and is now being utilized by an increasing number of veterinarians for various conditions.
For pets, acupuncture is most commonly used for: musculoskeletal problems (i.e. arthritis), skin problems, nervous disorders, reproductive disorders, respiratory problems, poor immunity, and internal medicine problems, such as heart (cardiac) and kidney (renal) disease, etc.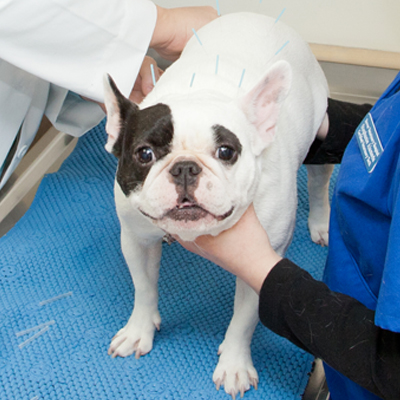 Acupuncture is one of the safest therapies available and side effects are few and far between. Treatments may last from 10 seconds to 30 minutes depending on the condition treated and the method used. Pets may be treated as frequently as one to three times a week but, typically, are treated once weekly for four to six weeks.
After the initial treatment period, the intervals between acupuncture visits are then extended based upon your pet's response. Most pets are seen once every two to six months for maintenance therapy. Some pets no longer need acupuncture therapy once their condition has resolved.
Dr. Rennie performs comprehensive physical, medical and acupuncture examinations prior to initiating acupuncture treatment. During this time, it is important for you to share with us pertinent details, such as:
A complete dietary history including regular food, how much food is consumed, if your pet has eaten human food, what types of treats you give your pet and so on.


Usual activity level and accommodations during the day and night.


A complete medical history including any allergies, major surgeries, illnesses requiring hospitalization, traumatic incidents.
It is also important for you to let us know about any physical changes that occur in your pet's health during and after all acupuncture treatments.